Shutterfly is doing ANOTHER promotion. They emailed me a promotion code for 10 free cards which I immediately used to order more of my holiday cards. As soon as I ordered my holiday cards they offered the option to embed my project in my blog for a $25 gift certificate. Loving it.
As far as my experience with Shutterfly, I have been meaning to review it here. Turns out I couldn't order the nice and simple flat cards with the previous promotion, so I spent a good four hours designing two fold-over holiday cards - a family one and one commemorating our ten year renewal. Designing the one commemorating our renewal was SO MUCH fun. It was as if we were a young couple designing a card for just the two of us. As we've always had at least one child since we've been together we've never taken that opportunity, so designing it was a totally fun and new experience and makes me smile every time I look at it.
After spending SO much time creating our cards, I was nervous as to how they would turn out. When I received them in the mail complete with their own cute yellow box to hold the cards and envelopes, I was blown away at the quality and brilliance of the colors. One of the people I sent them to said they were "the most gorgeous Christmas cards" she's ever seen.
As far as Shutterfly itself, I won't lie. The cards were costly. The order totaled $119 before applying the promotion which brought it down to $8.25 for shipping and handling. Had I not had the promotion offer, I might not have done it. Still, having done the promotion and seeing how amazing they turned out, I'm tempted to order my cards here next year - at least with one of their more affordable options. In addition to that, the site was quirky. Uploading my photos took some patience, and I wasn't able to have two projects open at once. I learned this the hard way as my first project would disappear when I tried to start another project in another tab to see if it would look better. Those issues took up most of the four hours time. If they were to streamline their process just a tad bit better to make it almost effortless, I could definitely see myself ordering more of their gorgeous cards.
Unfortunately, I won't post photos of the Christmas cards here as they have pictures of my boys, but here is how the renewal cards turned out:
Front of card
Inside top of card
Inside of card
To get your own $25 gift card embed your project on a blog or Web site you own. Email an active link (no screenshots, please) to the Web page containing your embedded project to:
shareproject@shutterfly.com
. They will confirm placement and reply to your email with a discount code. The offer expires January 31, 2011, and the promotional code is good until February 15, 2011.
Here is the obligatory Shutterfly embedded widget for the promotion, which for some reason didn't add the detail of the inside like I wanted, wouldn't let me center the image, nor did it have the brilliant color as the image appears slightly pixelated, thus I included the pictures above: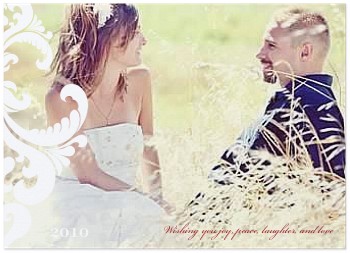 2010 Flourish Holiday 5x7 folded card