This is my normal for going out, only this time I fluffed up my bangs and made sure to use all my styling products. You can see Brando at the door, impatiently waiting for us to catch the sunset at the
Oasis
.
I'll definitely post how to do a look if people ask, otherwise I won't take the time.
As for how to do the rockstar look and make sure it is smooth first make sure your hair is straightened. I use a Chi and lurve it. Then, you can use a teaser brush like this one,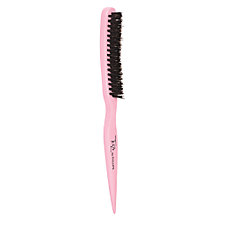 or make do with a comb and roll brush like I do. With the brush part of the teaser brush or the fine side of the comb, tease the hair on the top of your head and a little bit to the sides in nine different even sections, three across and three back. You're going to look a bit like Lisa Kudrow in
Romy and Michelle's High School Reunion
at this point.
Then, using the roller brush or the brush part of the teaser comb brush gently over just the top layer. Make sure you do not press the brush in or you will lose the volume. Usually two or three strokes is all you need. You'll want to brush it towards a point at the very top back of your head and let the height of the poofiness be just before where you secure it. Make sure all sides are smooth and use two bobby pins to secure it in a criss cross shape. I usually do the open ends of the boby pins pointing towards either cheek on the side of my face.
Finish by securing the rest of your hair in a ponytail at a height between the nape of your neck and the bobby pins. You can tease the top layer of the ponytail to add an extra rock star glam in there. Or, if you're really brave (I'm not), do a low side ponytail peeking out behind just one ear, making sure to tease the top layer. Finish with a solid layer of extra hold, not sticky or greasy hairspray (I like
Dove
), and smooth any flyaways. Good luck!